About Us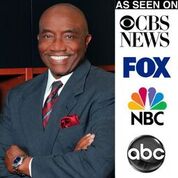 FIRM FOUNDER
Roy Landers, the founder of the Landers Law Group, P.C., was raised with seven other siblings by a single mother who only had a sixth-grade education. Nevertheless, she instilled in her children the thought that failure was not an option and that the word can't shouldn't be a word used when attempting to reach a goal. She scrubbed floors and washed windows to get each of them through high school and created a foundation that sparked them to obtain higher education and excel at whatever they decided to do. That foundation produced children, including Roy, that has masters, doctors and specialty degrees in medicine, law, and business.
Roy's mother was the victim of an unfair insurance company incident which took money away from his mother when he was just twelve years of age. The incident left a lasting impression on him. He determined, at the age of twelve, that he would grow up and become an attorney so he could help make sure people never experienced what happened to his mom. His mindset has always been to help the "underdog".
He sat as a Judge Pro Tem for a number of years, is an approved provider for the continued legal education of lawyers with the State Bar of California, has litigated numerous cases to jury verdicts and appealed and argued before state and federal appellate courts. He is an accomplished public speaker and has published a book "How To Negotiate and Get What You Want". He is also a licensed real estate broker with more than 20 years' experience, holds a license as a life agent for insurance estate planning, is an ordained minister and presents motivational seminars on a regular basis. He is a disabled military veteran having served in the United States Navy in armed conflict territories and is an accredited attorney authorized to practice before the Veterans Administration and Circuit Court of Appeals for the representation of veterans.
Roy has been cited by the major news networks CBS, NBC, ABC and Fox for his experience and expertise in the area of small business development and business coaching and consultation, which includes marketing strategies, negotiation tactics, and techniques, contract acquisition and copywriting to create profits.
He holds a Juris Doctorate Degree from the Thomas Jefferson School of Law,  a Masters In Taxation Law from the University of San Diego School of Law,  and degrees and certifications from San Diego State University with emphasis on community economic development. He is a Certified Hypnotherapist with a Ph.D.(c) designation in Psychology.
COMMUNITY INVOLVEMENT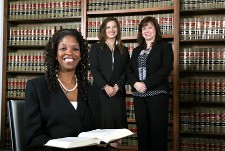 Our firm has been recognized throughout the community for our support of children's organizations, the homeless, veterans organizations, churches and social organizations such as the National Urban League, the National Association for the Advancement of Colored People (NAACP), the American Diabetes Association and a host of others. We are especially pleased to have been an integral part of the mentoring and teaching groups of underprivileged children and young adults in an entrepreneur academy in association with the University of San Diego and Mira Mesa College. Roy currently services on the advisory board of the San Diego Mira Mesa College, as General Counsel for the Council for Supplier Diversity and national women and minority supplier support and training organization and is a member of the North San Diego County Chamber of Commerce where he serves on the Military Transition Council which helps military personnel transition from military service to the civilian work environment.
LOCATIONS
Our law firm is based in San Diego, California, but provides nationwide services in numerous categories. Through our connection with associates and other entities, we can coordinate service delivery throughout the nation for those who need continuity of having a fluid connection with one service provider handling their affairs. 
In representing our clients we pride ourselves in giving each client the close, personal attention necessary to resolve problems efficiently and creatively while maintaining the highest level of skill and professionalism. Our clients and their interests always come first. Our presence is national in scope.
Our vast experience of more than 30 years in serving as outside general counsel to small and midsize businesses and assisting corporate entities and other law firms with specific projects provides the Landers Law Group with the ability to provide a large range of business development and legal services. We focus on a variety of legal services including assistance with small business entity structure set up for corporations, limited liability companies as well as taxation assistance with cases involving the IRS. More recently we have added advisory services in the area of bitcoin and cryptocurrency. 
Get a Free Audit of Your Website for SEO and Copywriting Effectiveness. "When Copy Is Great, Profits Follow"
Contact us Now!
Landers Law Group, P.C.
10679 Westview Parkway, 2nd Floor
San Diego, California 92126
Tel: 858-433-9263       Fax: 858-433-9251